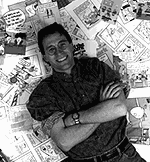 When Mark was born on a New England evening in 1961, the attending physician supposedly mentioned seeing doodles on the uterus wall, but this remains unconfirmed.

After many odd jobs and a degree from Salem State College in graphic design, Mark felt he had two marketable skills: cartooning and grocery bagging. He decided to choose cartooning, even though it didn't pay as well. With influences ranging from Charles Schulz, Mad Magazine and, more obviously, Gary Larson, he started his off the mark comic panel. And, strangely enough, his wife encouraged him.

Today, he splits his time between being hunched over a drawing table and helping to raise his young daughter.

off the mark runs in over 100 newspapers and has spawned a line of greeting cards, T-shirts, and some other weird stuff.

Click here to learn more about Mark Parisi.